Products
TATPROF solutions allow to realize the most challenging ideas of architects
TP-50300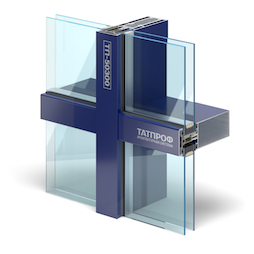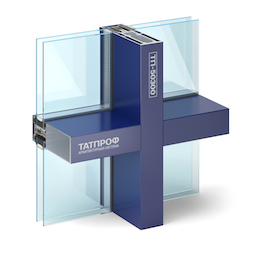 Technical characteristics
ТP-50300 series of facades is intended for manufacturing of vertical and inclined transparent structures. There are two possible design solutions: pillar-cross-bar and beam-bar.
The main design version: with guaranteed condensate drainage by fixing cross-bars to pillars in the overlap manner. The following profiles are used for pillars: TP-50310—TP-50314-04, for crossbars: TP-50320—TP-50328, EK-5001, EK-5002, EK-5003, EK-5006. It is suitable for vertical, inclined stained-glass windows, as well as for single- and double-pitch transparent covers.
Second design version: fixing of crossbar to the pillar without overlap. The following profiles are used for pillars and cross-bars: EK-5001, EK-5002, EK-5003, EK-5006.
Profiles front surface width is 50 mm (reinforced cross-bar ТP-50328 — 60.4 mm). Pillars cross-section height is from 56 to 240 mm, cross-bars — from 34 to 169 mm. Profiles are extruded from 6060 alloy according to GOST 22233-2001. Polymeric powder coating (Catalog color RAL) and anodic-oxide coating are used for decoration and protection.
Infilling
Transparent: plate glass width from 4 mm according to GOST 111-90; single pane and double-glass pane width from 48 mm according to GOST 24866-99. Design and installation is fulfilled in accordance with SN 481-75, with obligatory use of support pads.
Non-Transparent infilling from 4 mm to 50 mm. The series allows manufacturing of stained-glasses with crossbar turning in the horizontal plane to the inner and outer angles by means of one pillar only.
Compensating pillars TP-50317 and TP-50318 make compensation of thermal extension in horizontal plane. Hinged facades are manufactured from this series that are fixed to the supporting structures by means of steel and aluminum mounting components. All built-in construction designs of TATPROF system are integrated into this series.
Series is equipped with:
sealers based on EPDM;
rubber type 1b GOST 30778-2001;
PVC plastic components — GOST 30673 99;
Polyethylene grade 1 GOST 16338-77;
fasteners: galvanized and stainless;
inner layer of vapor barrier;
fixing unit in aperture according to GOST 30971-2012 "Installation seams".
Download documents
