Products
TATPROF solutions allow to realize the most challenging ideas of architects
Doors TPT-72PS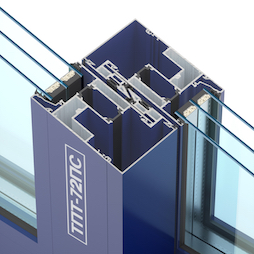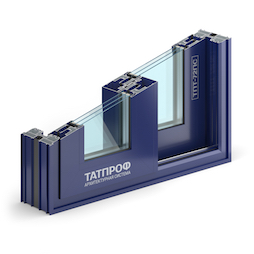 Description
TPT-72PS series of the doors is a first-class series of thermally insulated lift-and-slide doors. It is designed to create the largest possible glazed window openings with highly increased requirements to comfort.
Technical characteristics
TPT-72PS series system provides the following design options: a combination of one casement with a blind part and two casements with blind parts with a central locking (casement with stulp)
Compound extruded profiles made of 6060 aluminum alloy according to GOST 22233-2001. A frame with a five-chamber profile and thermal bridges with a width of 34 mm made of polyamide 6.6 with a content of 25% fiberglass is used.
Anodizing, polymeric powder coating is used as a protective and decorative coating of aluminum profiles. Coating color is according to Catalog RAL.
Design thickness of profiles: frame - 163 mm, casement - 72 mm.
As a transparent infilling, double-glass panes of various designs with a thickness of 24 to 51 mm are used.
For insulation purposes, seals made of elastomeric materials are used, corresponding to GOST 30778-2001 (light-ozon-frost pillars)
Fittings of Sobinco and Fornax companies are used for window casements.
Advantages
Stylish design.
Design is a key parameter in solution developing. Even the huge sliding doors from TPT-72PS system look stylish, light and lightsome and arise a sensation of complete transparency. It seems that the interior and exterior space merge into one, erasing the space boundaries. The large floor-to-ceiling glazing of the transparent portal doors of TPT-72PS series underlines the up-to-date and aesthetic qualities of the system and makes it ideal for rooms with increased comfort and beautiful views.
High energy efficiency.
Large glass surfaces provide high-energy efficiency and create an atmosphere of coziness and comfort at home. TPT-72PS system, which foresees installation of a single and double-glass pane, provides exceptional thermal insulation.
The reinforced internal profile ensures structure tightness even at high wind loads.
In order to increase thermal characteristics in this series, it is provided to use foamed heat-insulating inserts.
Safety.
Casement locking unit is hidden in the door upper part that increases burglary resistance class. Design solution with double-glass pane from triplex makes these properties higher.
In spite of that the locking unit is securely hidden and protected; the process of closing and opening is easy and simple.
Download documents
